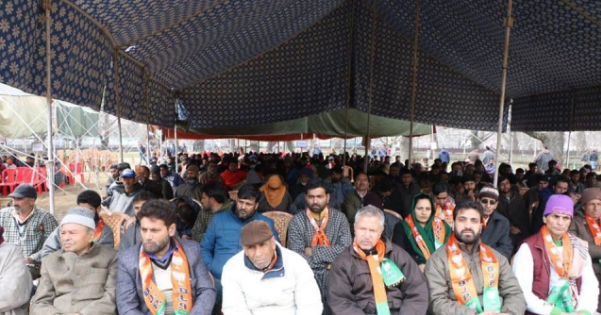 Photo courtesy: Swarajyamag
Hundreds of Bharatiya Janata Party (BJP) workers gathered yesterday (Thursday, 14 March) at Sher-e-Kashmir Park in Srinagar to take part in the BJP's first of its kind party convention in the Kashmir Valley, reports Firstpost. The arrival of media persons, however, led to many attendees hiding their faces from camera so as not to be identified, presumably in fear from retaliation for supporting the party.
The meet was addressed by BJP national vice-president and Jammu & Kashmir (J&K) in charge Avinash Raj Khanna, who was accompanied on the stage by the party's state general secretary Ashok Kaul.
Although the BJP is a major political force in the Jammu region, its presence in the Kashmir Valley is much thinner, as the region suffers from violent separatism which is at odds with the party's nationalist image.
Source: Swarajya Mag
15 Mar 2019
Bhavya Bhandari
Recommended for you