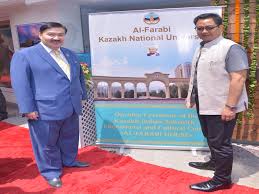 Photo courtesy: Policy Times
The collaboration project is of the Al-Farabi National University and Kazakhstan in India to introduce about the culture of Kazakhstan. The center that has been named in India Al-Farabi House was inaugurated by State Minister Kiren Rijiji in Delhi.
India Al-Farabi National University is a Scientific-Educational project, the name was on the anniversary remembrance of Philosopher Al-Farabi. He was a scientist, cosmologist, mathematician and wrote in metaphysics, ethics, political fields.
Source:News 18
Recommended for you