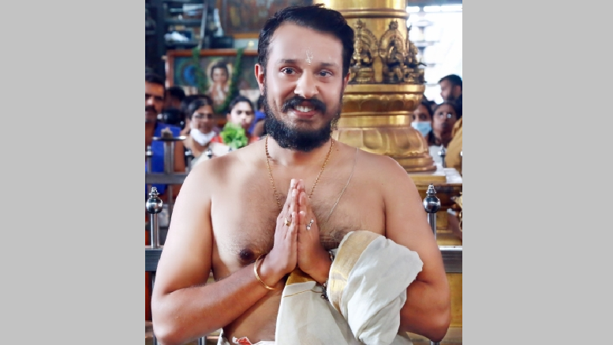 Photo courtesy: Hindu Post
Starting October 1 for the next six months, the famed Sree Krishna temple at Guruvayoor and those who arrive for prayers are going to get a first of its kind 'Ayurvedic' touch as 34-year-old Kiran Anand Namboothiri becomes the new Chief Priest or 'Melsanthi' of the temple.
Namboothiri is an Ayurveda doctor and till four months ago, he and his wife Manasi, were in Moscow running a clinic there. It was then that he applied for the top post in the temple.
Of the 41 applicants who applied, 39 were cleared and when a draw of lots was done to find who should be the chief priest for a period of six months, the name of Namboothiri was selected.
Read more: https://hindupost.in/dharma-religion/ayurveda-doctor-working-in-moscow-becomes-chief-priest-of-keralas-guruvayoor-temple/
Recommended for you