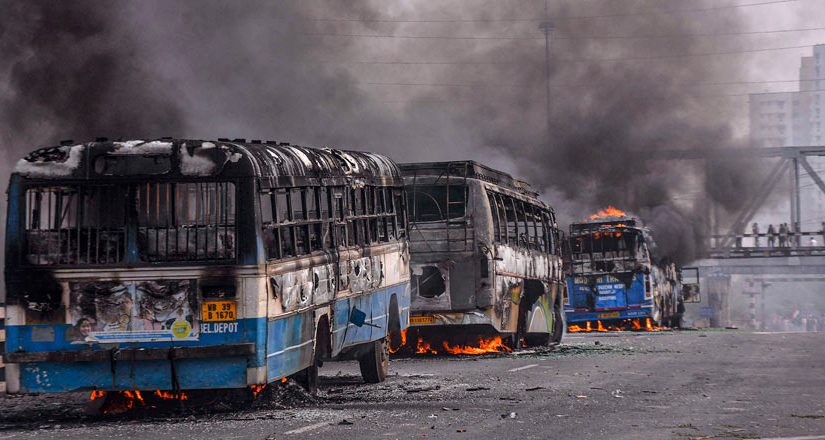 Photo courtesy: Manoramaonline
Bengal's CM Mamata Banerjee, instead of uploading the Law and Constitution of India promised massive protests against Citizens Amendment Act which is Law.
So what happened and continues ==> After Friday prayers, per reports Muslims mobs went on rampage, burned Buses, Trains, Railway Stations, Station Ticket Counters and National Highway Toll Booths and even Ambulances. They even attacked Police at many places who faced major injuries. Numerous people were injured. And the Police even though got injured seemed like was ask to stand down. The whole country was shocked while Bengal's media was on a blackout. So Mamata was surprised and shocked at what she got and has not been able to control the situation.
Eye witnesses say this was no spontaneous protest. It was planned right after Friday players, mostly central government property and mostly law enforcement was attacked.
And CM Banerjee and TMC were either silent or encouraging the rampaging muslim mobs while the rest of public was shocked and ran for safety.
Bengal's Governor was quoted, ""I am extremely anguished that CM and Ministers are to spearhead rally against CAA, law of the land. This is unconstitutional. I call upon CM to desist from this unconstitutional and inflammatory act at this juncture and devote to retrieve the grim situation," tweeted Jagdeep Dhankhar."
SADLY, THIS IS WHAT BENGAL HAS COME TO ALL DUE TO MINORITY VOTE APPEASEMENT AND IN SUPPORT OF THE ILLEGAL MUSLIMS ONLY FROM BANGLADESH. AND THE CM IS USING PUBLIC MONEY TO RUNS ADS SAYING THE LAW OF THE LAND – CAA AND A FUTURE NRC WILL NOT BE ALLOWED IN BENGAL. MAYBE IT TIME TO BRING PRESIDENT'S RULE IN BENGAL? INDIA CANNOT WATCH THE MAJORITY OF THE STATE SUFFERING FROM STATE SPONSORED TERRORISM USING MUSLIM MOBS.
Source: Opindia
Recommended for you