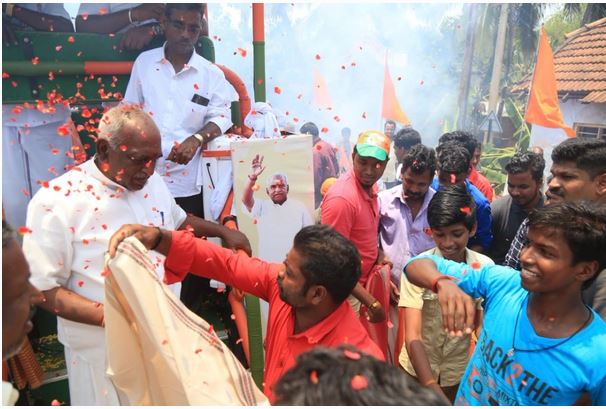 Photo courtesy: Swarajyamag
It is so problematic as per reports, the Roman Catholic Church as well as the Church of South India (CSI) diocese are very actively working to influence the Kanyakumari Lok Sabha election to defeat NDA 's sitting MP Pon Radhakrishnan (popularly called Ponnar). Per reports, the SECULAR WELFARE OR DEVELOPMENT DOES NOT MATTER, ONLY THE BJP SHOULD BE DEFEATED AT ALL COSTS.
Here is a short summary of what – Leftists, Rationalists, and even his opponents had to say:
1)  Many important flyover bridges were constructed, and Hospital services have improved in a big way.
2)  In the last five years there have been no communal problems in this communally sensitive district.
3)   He had brought the medical college to the district – a long time dream, and a center of Sports Authority of India to the district. Before MPs had promised that dream, was still a dream, till Ponnar made it happen.
4)  Great success with total sanitary coverage.
5)  Even his health suffered when Ponnar worked day and night to bring back home 300+ fishermen (who are mostly Christiansy) after they were arrested in international waters by foreign countries.
6)  With the  Christian control of the district, bank officials would make it a point to discourage Hindus from getting loans, Ponnar changed that with Mudra scheme loans and many got Rs 2.5 lakh housing loans.
In comparison, Congress candidates were all representatives of the church, and ask voters to chose religion over development, even actively supported by Rahul Gandhi.
INDIA NEEDS PONNAR TO BE RELECTED. IT IS UP THE CHRISTIAN POPULATION TO MAKE THIS HAPPENED. YOU WILL SHOW THE NATION THAT BISHOP AND THEIR CHURCHES CANNOT CONTROL THE VOTE BANKS LIKE HERDS OF SHEEP…
And to quote, "The Kanyakumari result will have implications for the religious harmony and future development of this district made communally sensitive by aggressive proselytisers."
GOD HELP US WITH GOOD JUDGEMENT…
Source: Swarajyamag
Recommended for you