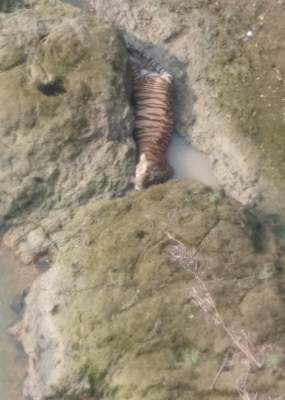 Photo courtesy: Rediffmail
Tiger, big cat got trapped in the river rocks in Maharashtra, Chandrapur districts due to injuries died today. The endangered species fell from a height of 35 feet of the bridge and dropped on the bed of river rocks on Wednesday evening.
The forest officials tried to pull the tiger in the cage and so did the endangered species tried to move towards the cage but was unable due to multiple body injuries including the spinal cord. The Chief Conservator of the forest Chandrapur circle, SV Ramarao said that the tiger had killed an animal and was resting on the bridge before jumping into the river.
Source:Rediffmail
Recommended for you