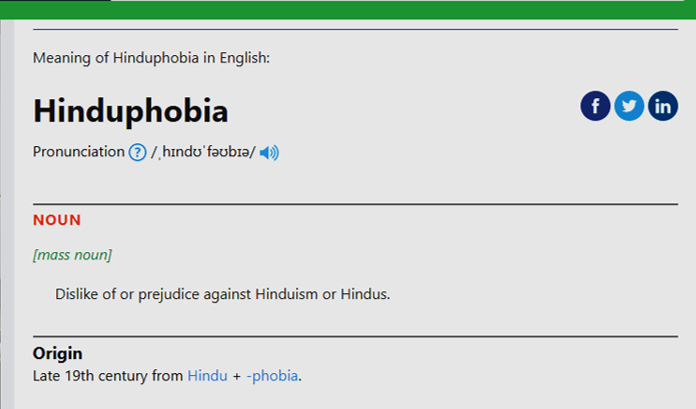 Photo courtesy: Facebook
In mid 2020 we wrote to Oxford English Dictionary with our article on Hinduphobia to request they make an entry as it goes back to the late Nineteenth Century.
We are especially pleased to see that they have acknowledged the etymology and long history of this word in the English language.
The definition is superb, as simple to comprehend as it is elegant.
Our many thanks to the Oxford English Dictionary for correcting this long standing literary injustice. Let's see this definition in all the Oxford editions and other reference texts.
Now we all have an official definition to work with and can all move forward.
Happy Guru Poornima everyone. May the light of truth always shine and conquer avidya.
*Meaning of Hinduphobia in English:*
Hinduphobia
Pronunciation /ˌhɪndʊˈfəʊbɪə/
NOUN
mass noun
'Dislike of or prejudice against Hinduism or Hindus.'
Origin
Late 19th century from Hindu + -phobia.
https://www.lexico.com/definition/hinduphobia
.
Read more at: https://www.facebook.com/Hinduhumanrights
.
Recommended for you