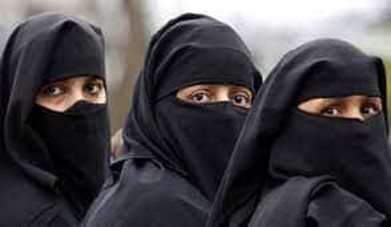 Photo courtesy: Hindustannewshub
Did you know 16 countries have banned the burqa, including:
1.Tunisia – muslim majority country
2.Morocco – muslim majority country
3.Tajkistan – muslim majority country
4.Sri Lanka – latest country to ban veils all forms of face veils in public places "due to national security concerns" when the gov't enacted law in April 2021.
5.Austria
6.Denmark
7.France
8.Belgium
9.Netherlands
10.Switzerland
11.China
12.Bulgaria
13.Cameroon
14.Chad
15.Congo-Brazzaville
16.Gabon
The European Court of Justice (ECJ), which is the highest European Court like India's Supreme Court, German & European employers can ban workers from wearing any visible sign of their political, philosophical or religious beliefs which includes "the Hijab". This is to present oneself in a neutral manner and to prevent social conflicts.
The ban was based on for security reasons, and given the potential of terrorist activities.
In Syria (a muslim majority country), the wearing of the hijab was banned in colleges since 2010. Hijab is also banned in Belgium and Netherlands. And in the Netherlands, face coverings have been banned in schools, hospitals and some public places.
All these countries are doing just fine. Karnataka and India will do fine continuing with Status Quo – LETTING SCHOOLS & COLLEGES SET THEIR OWN UNIFORM DRESS CODE.
.
Read more at: https://hindustannewshub.com/world-news/hijab-is-already-banned-in-these-countries-there-is-also-a-provision-of-fine-in-many-countries/
.
Recommended for you