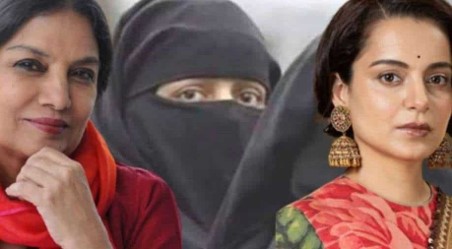 Photo courtesy: Wionews
In 2003 by Mumbai High Court, in 2018 by Kerala High Court and others – there are many judgements NOT ALLOWING Hijab or Burqa inside Schools and Colleges as well as to be worn by Police personnel (a long beard in this case). The court was petitioned based on fundamental rights and the Court ruled that EVERY SCHOOL AND COLLEGE HAS THE RIGHT TO ITS DRESS CODE WITHIN THEIR PREMISE. It is no different than the dress code inside a religious place or one's house. This is why at Aligarh Muslim University and Jamia Millia Islamia University ALL STUDENTS are forced to wear sherwani and salwar kameez to the COLLEGE DRESS CODE.
So straightforward and simple.
We commend the just a few brave ones in Bollywood – Kangana Ranault (who never hesitates to take up difficult social issues) but also Javed Akhtar who have spoken on this issue and both. Kangana said so crisply, "Iran in 1973 and now. From Bikini to Burqa in fifty years flat. Those who do not learn from history are doomed to repeat it." Javed Akhtar said, "I have never been in favour of Hijab or Burqa. I still stand by that."
But where are the Multi-Crore pati è Aamir Khans, Shahrukh Khan, some other Khan, Deepika, Kareena, Priyanka and so many others? Do you want to speak in favor of Aroosa Parvaiz, the 12th standard topper from Kashmir who said "MUSLIM BY HEART, NOT BY HIJAB"? Social media users are trolling and abusing her. Do you want to speak on behalf of the millions of silent muslim women? Do you want India to be progressive melting pot country, or do you support the creation of a separatist mentality of one community – do you forget partition?
.
Read more at:  https://www.wionews.com/entertainment/bollywood/news-shabana-azmi-reacts-to-kangana-ranauts-comment-on-hijab-row-452446
.
Recommended for you