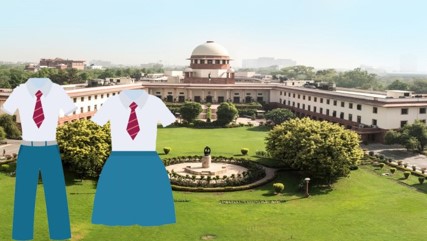 Photo courtesy: Opindia
YES YOU READ IT CORRECTLY – THE VERY CONSERVATIVE SAUDI ARABIA WANTS TO liberalize and progress. They want to give more freedom and reduce restrictions on their Women and Girls.
Kerala Governor Arif Mohammad Khan slams politicians, the biased media and all those demanding for the Hijab demand, "Those who wanted Muslims to remain in ditches are backing the controversy".
It is to be noted that for last 35 years or more there was no hijab in college. They are allowed to come to the college wearing it but not inside the classroom. During class hours, all students have to be in uniform with no hijab. This is very reasonable and fair and equitable to All Students.
In fact, only after December 27, this demand started. Even then the college authorities spoke to the girls' parents and they understood. But they were afraid. The girls were being trained by  Campus Front of India (CFI), the controversial student arm of the militant Islamist organization Popular Front of India, has been linked in stirring the hijab dispute in Udupi, Karnataka.
In a pleasant development, a petition has been filed in the Supreme Court to ensure a uniform dress code in education and on campuses. This would:  "secure social equality, assure dignity and promote fraternity, unity, and national integration, a uniform dress code in educational institutions is very essential.  Common Dress Code is not only necessary to enhance the values of equality, social justice, democracy and to create a just and humane society but also essential to curtail the biggest menace of casteism, communalism, classism, radicalism, separatism, and fundamentalism."
AS A COUNTRY, WE ALL CAN AGREE WITH THIS.
.
Read more at: https://www.opindia.com/2022/02/plea-seeking-uniform-dress-code-in-education-campuses-filed-in-sc/
.
Recommended for you