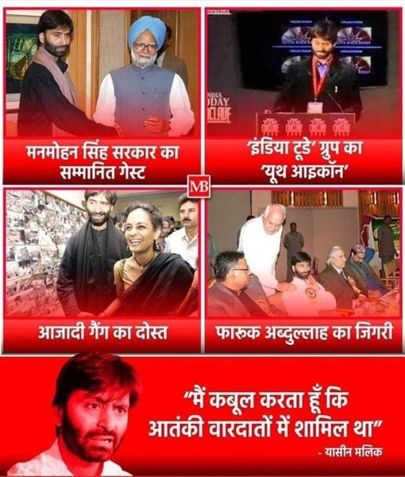 Photo courtesy: Republic World
Will Congress Apologise?' BJP Takes Dig At UPA As Yasin Malik Convicted In Terror Case. BJP leaders accused Congress of patronising & saving terrorist Yasin Malik over decades after a NIA Court in Delhi convicted him in a terror funding case.
NIA court convicts terrorist Yasin Malik but the question must be asked 1) who patronised him for decades despite knowing he was a butcher of Kashmiri Hindus & why was he patronised? 2) why was he Guest of Honour for UPA govt ? Will Congress apologise for this sin.
This is the Congress communist ecosystem which kept saving this terrorist till date.
Read more at: https://www.republicworld.com/india-news/politics/will-congress-apologise-bjp-takes-dig-at-upa-as-yasin-malik-convicted-in-terror-case-articleshow.html
Recommended for you