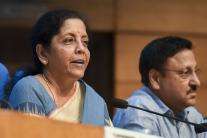 Photo courtesy: News 18
In Recent press meeting Nirmala Sitharaman Union Finance Minister, has cleared about the present growth of economy in India. According to the crisis in global economic growth, India is still ahead and improving.
The conference was arranged to describe the present situation of Indian economy by Nirmala Sitharaman , while chairman of Niti Aayog Rajiv Kumar stated that in last 70 years, it is the worsen (unprecedented) condition of economy in India.
Source:News 18
Recommended for you