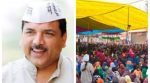 Photo courtesy: Opindia
In a explosive news release, the Enfocement Directorate has revealed that the Islamic PFI (call themselves the People's Front of India) had collected over Rs. 150 crores over months and a big chunch of it after the Citizens Amendment Act (CAA)became law in December.
PFI has collected funds from all over India and more than half was in cash and rest and bank transfers. Bank deposits were kept below Rs. 50,000 to avoid detection. Could any of the funds be from foreign sources? These funds have funded the anti-CAA protests in Delhi – people are being funded to engage in violence and protest, and have also funded anti-CAA protests in UP and across India.
In addition, PFI's Delhi chief Mohammad Parvez Ahmed has been constantly in touch with both AAP and Congress leaders. Kapil Sibal a well know Congress lawyer has been engaged by PFI. COULD PFI BE FUNDING AAP & CONGRESS PARTY IN THE DELHI ELECTIONS? THAT WOULD BE SCARY AND COULD INFLUENCE THE RESULTS…
Source: Opindia
Recommended for you