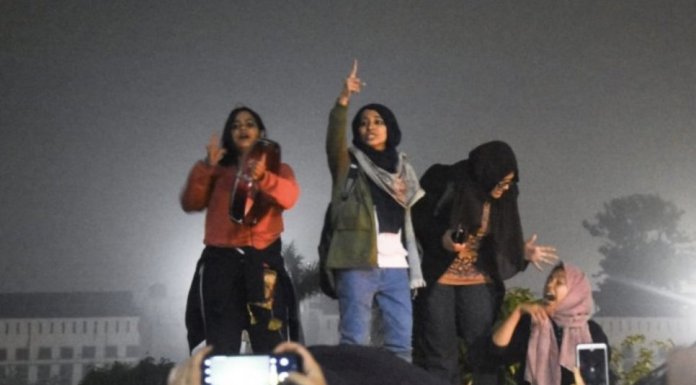 Photo courtesy: Opindia
DON'T BLAME DELHI POLICE. THEY DID A SUPER JOB. They responded to arson and terrorist acts and helped to bring the situation under control and provide relief to the common citizen. If not for Delhi Police's actions, lawless situation would have spiralled even more out of control.
So what happened: In simple terms Jamia Millia students and locals had a big gathering, AAP MLA Amanatullah was there, Angry slogans were raised against the majority Hindu community, against India and its leaders, they are calling for Jihad, and other extreme actions. This was followed by burning government busses, torching vehicles and threatening locals. When these people both students and local ran back to campus, they hit in the library and reportedly broke CCTV cameras. Next day even Journalists were beaten up. The protesters wanted to march towards Parliament house. Police only barricaded them but then these protestors both – MEN & WOMEN CONSISTING OF BOTH THE UNIVERSITY STUDENTS AND LOCALS started attacking the police. Police had no choice but to respond.
Some Media is reporting Police is at fault – why would they have to called if protests were under control? CAA Law provides minorities in 3 neighbouring countries Indian citizenship. Muslims cannot be minorities of those 3 islamic countries. As PM said no No muslim is affected. So why are the protests so upset? Any why burn extensive public property? And why spill hatred about the muslim community.
Finally, there may be several protests across India to show solidarity with the JAMIA MILLIA STUDENTS – did those protesters even try to understand what these Delhi protestors die? Still, even with multiple local protests, it is very smaaaal compared to the positive view that CAA has found with the vast silent majority.
Source: Opindia
Recommended for you