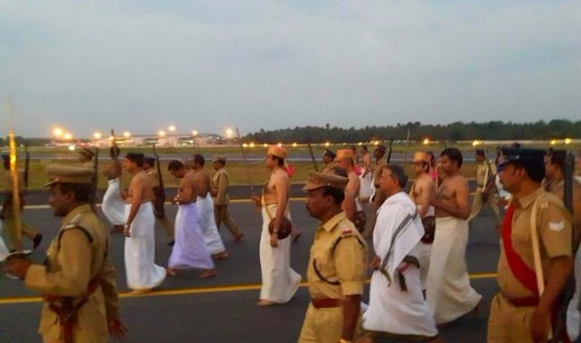 Photo courtesy: OpIndia
Thiruvananthapuram International Airport once again closed its runway and suspend flight operations for five hours on Tuesday, to allow the ceremonial procession of the famous Padmanabhaswamy temple to pass through the runway.
According to reports, because one of the temple's "Arattu" processions, which mark the end of the Alpassi festival, falls on Tuesday, the airport officials here have notified that flight services will be suspended for five hours from 4 pm to 9 PM. In fact, even when the Adani Group took over the administration of the airport last year, the practice of closing it down for the ritualistic procession continued without fail.
Read more at: https://www.opindia.com/2022/11/kerala-airport-halts-flights-passage-to-lord-padmanabhaswamy-temple-arattu/
Recommended for you