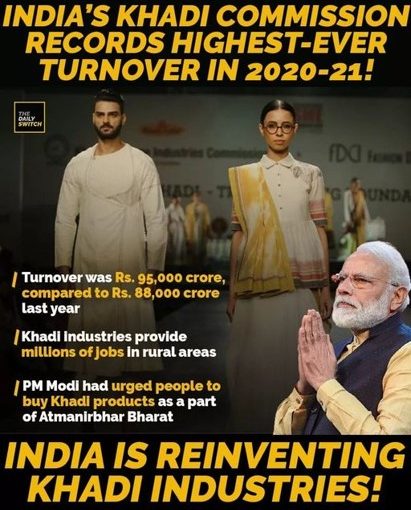 Photo courtesy: pib.gov
In a year completely marred by Covid-19 pandemic, Khadi and Village Industries Commission (KVIC) has recorded its highest-ever turnover. In the year 2020-21, KVIC registered a gross annual turnover of Rs. 95,741.74crores, as compared to Rs. 88,887 crores turnover in 2019-20, thus, registering an increase of 7.71%.
KVIC's record performance in 2020-21 assumes great significance as production activities remained suspended for more than three months during the nationwide lockdown announced on March 25 last year.
.
Read more at: https://pib.gov.in/PressReleasePage.aspx?PRID=1727869
.
Recommended for you