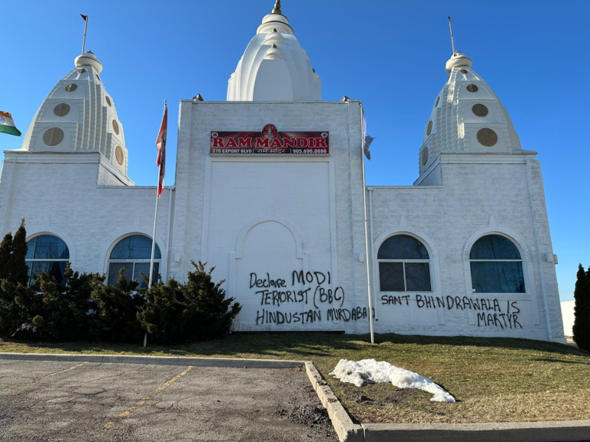 Photo courtesy: Hindu Post
Yet another Hindu mandir has been desecrated by Khalistanis operating freely in Canada. This time the Ram Mandir in Mississauga, Ontario province was vandalized with anti-Bharat and pro-Khalistan graffiti.
In a press release, VHP Canada has denounced this hateful act, which comes on the heels of similar hateful graffiti defacement at the Gauri Shankar Mandir in Brampton, Ontario (in January 2023) and at the BAPS Mandir in Toronto, Ontario (in September 2022). VHP said it stands in solidarity with the Ram Mandir management, devotees who visit Ram Mandir and the entire Hindu community of Canada.
Read more at: https://hindupost.in/crime/declare-modi-terrorist-sant-bhindranwale-is-martyr-now-ram-mandir-desecrated-by-canadian-khalistanis/
Recommended for you