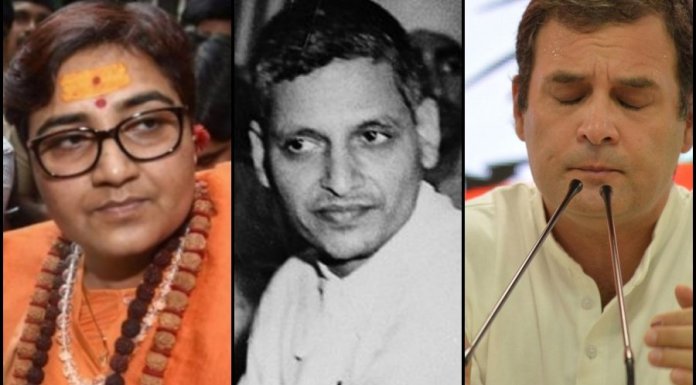 Photo courtesy: Opindia
MP from Bhopal, Sadhvi Pragya – all she said was Nathuram Godse, who shot Mahatma Gandhi, is a patriot. In fact during his trial, if one takes the time to hear it, he gave a logical and cogent speech for his reasons for doing that. Several amongst us hold Godse in high regard and in their view he was a patriot. At the same, several countrymen disagree with some of Gandhi key decisions – the biggest being thrusting Jawaharlal Nehru as India's first prime minister against the wishes of the Congress Party's vote.
A majority today hold Gandhi in very high esteem and consider Godse a criminal, but that does not stop a section of our country and its leaders to view Godse as a patriot.
WE LIVE IN INDIA, EACH TO THEIR OWN VIEWS. SO LET US NOT GANG UP AND PUNISH SADHVI PRAGYA FOR EXPRESSING HER VIEW. Yes, Shri Prime Minister on down, feel free to criticize as much as you like but each is entitled to their own views.
And let us not forget, Sadhvi Pragya has been subject to years of torture, allegedly police even urinated on her and fed her beef – shocking given she is a sadhu.
Source: Opindia
Recommended for you