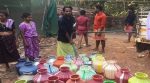 Photo courtesy: Opindia
We should ask ourselves why sometimes like now we bring out the worst in us …
CAA has no impact on Indians, but several students and people are protetsing even without reading the new law.
Hindu residents are denied drinking water n Muslim-majority Malappuram for supporting the recently enacted CAA. This is totally illegal but Kerala's communist government is sitting totally quiet. Luckily other organisations are helping out.
Congress governments had this in their manisfesto but now they are against it.
A few students in select prestigious universities are stopping many others from registering for semesteds, going to class, block access to research labs and even physically attacking them.
Jamia Millia University students per reports shield criminal who threw stones from inside campus but are upset when police entered the campus to stop them. The university is yet to give CCTV footage to the police.
100s of policeman received bullet injuries and many serially injured to control the anit-CAA mobs. But media is only blaming the police which is only doing their job.
Some CAA protests have called teh CAA protests Khilafaat 2.0 – or a call to overthrow India.
In West Bengal, which saw amongst the most extreme protests, NO ONE HAS BEEN ARRESTED YET.
And much more …
But the silent majortity has welcomethe CAA law – WHICH SHOWS US OUR BEST SIDE.
Source: Opindia
Recommended for you