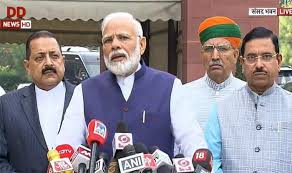 Photo courtesy: DD India
On first day of Parliamentary Sessions in Winter PM Modi has appreciated NCP and BJD party for maintaining the parliamentary norms. NCP and BJD party both have generated different points, BJD has come up with dharna in Delhi to protest against the low MSP for the farmers.
While NCP has decided to get into alliance with Shiv Sena with proper discussions on the facts and features. Shiv Sena was unable to put there points effectively that has led to force the ruling government to put Maharashtra under President's rule. PM Modi has also written about the NCP and BJD party in his tweet.
Source:Swaraj mag
Recommended for you