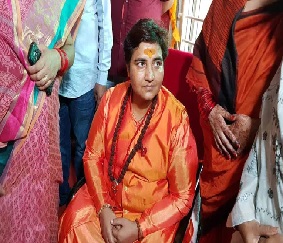 Photo courtesy: NDTV
Nathuram Godse is known to everyone not as a patriot but as a murderer of the Father of Nation, Mahatma Gandhi. The Bhopal MP, Pragya Thakur has been barred from attending the parliament winter session after addressing Nathuram Godse a Patriot.
Pragya Thakur for the first time made a statement during the parliament session after which the whole incident and opposition arised. While she said that DMK's A Raja was speaking about Godse, the topic was about Udham Singh as she interrupted in between the statement and was caught into the controversy of calling Nathuram Godse a Patriot.
Source:NDTV
Recommended for you