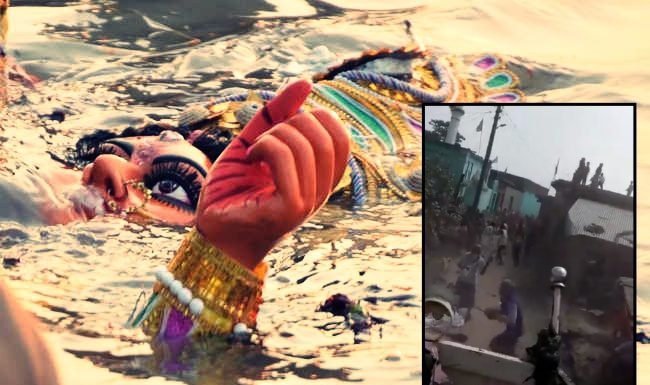 Photo courtesy: Opindia
More so during festivals but at other times terrible news about organised mob attacks, devotees being severaly injured with swords, idols being vandalised and temples being descerated. SOMETHING BADLY NEEDS TO BE DONE FROM BOTH POLICE ACTION AND LEGAL SYSTEM. Just a few examples: A few examples.
* A Durga Puja processon in UP was attacked by Muslims even with swords. Attacks even came from a mosque. 8 were arrested and many on the run. And they shout "Pakistan Zindabad". THEY CAN CROSS OVER, WHY STAY IN INDIA.
* In Arunachal Pradesh, Idols of Maa Durga were vandalized and few have been arrested. The police has not released names.
* In Rajasthan, a Dussehra procession was attacked by members of another community (no points for guessing which one).
* In Assam, Muslim man caught vandalising, looting and torching a Lakshmi Temple.
SO WHILE THESE ARE NOT COORDINATED, THERE IS A PATTERN. STRONGER POLICE ACTION AND QUICK JUDICIAL DECISION LIKE LIFE IMPRISONMENT OR EVEN DEATH PENALTY IS NEEDED TO STOP THIS MENACE…
Source: Opindia
Recommended for you