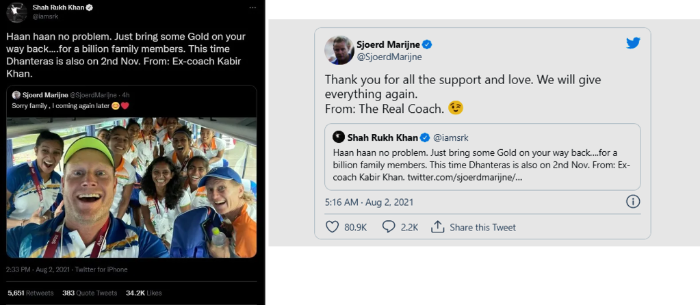 Photo courtesy: OpIndia
Sjoerd Marijne, head coach of the Indian women's hockey team, has given Shahrukh Khan a befitting reply after the Bollywood actor tried to hog limelight after the team's brilliant performance at the Tokyo Olympics. The team is now through to the semifinals.
The head coach had shared a photograph with the Indian team with the caption "Sorry family , I coming again later". Shahrukh Khan quote tweeted it saying, "Haan haan no problem. Just bring some Gold on your way back….for a billion family members. This time Dhanteras is also on 2nd Nov. From: Ex-coach Kabir Khan."
.
Read more at: https://www.opindia.com/2021/08/shahrukh-khan-sjoerd-marijne-indian-women-hockey-team-tokyo-olympics/
.
Recommended for you