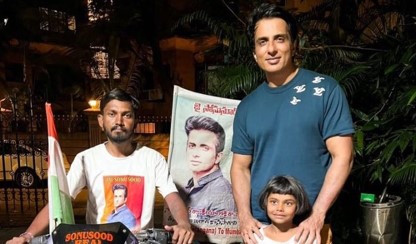 Photo courtesy: OpIndia
Actor Sonu Sood on Tuesday made a sensational claim that his team was successful in resurrecting a man in a coma after doctors had given up on him. 
In a series of tweets, Sood shared the story of a man who was brought back to life by his team after doctors deemed he could not be saved. 
Sood said a man named Ram Prasad Bhandari and his daughter drove all the way from Telangana and showed up at his doorstep recently. The actor also shared a picture of them in which he could be seen with a little girl on his side and a man sitting astride on a bike registered in Andhra Pradesh. 
Read more at: https://www.opindia.com/2022/07/sonu-sood-claims-his-team-brought-man-back-to-life-after-doctors-gave-up-on-him/
Recommended for you