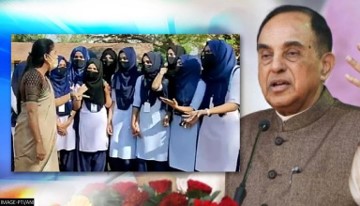 Photo courtesy: Republic World
Dr. Subramanian MP and legal luminory who has taken on numerous corruption cases against Sonia Gandhi, Rahul Gandhi and Robert Vadra and others said there are clear 2003 Bombay (Mumbai) High Court rulings where a petition by Fateh Hussain (a Muslim student) against Bharath Education Society. The judge was categorical that in the Quran the hijab is optional.
He noted, You come to school or college and You are part of a Contract to be admitted to the school and You need to adhere to that and obey that. Similar thing in Mumbai Police someone wanted to wear beard, THE COURT AGAIN REJECTED. Same thing in Military – you want to wear something else, and it would be rejected also.
So HIGH COURTS HAVE BEEN VERY CLEAR AND HOPE THE SUPREME COURT PUTS THIS DOWN STRONGLY. This Hijab issue is being created by the some International groups on purpose to hurt the growing unity of Hindus & others in this county.
Another interesting thing is after the Triple Talaq law, more and more Muslim women are voting for BJP and PM Modi as they are hoping for more laws for personal and social equity – like property. Naturally this is creating shock waves in the community.
Radical Islamic groups like PFI and CFI their student wing and others – CLAIM FUNDAMENTAL RIGHTS BUT THERE ARE REASONABLE RESTRICTIONS BASED ON PUBLIC ORDER, MORALITY & HEALTH. So if there is uniform for Hindus & others then same applies to Muslims. Missed in this is the restrictions on these rights as well as responsibilities.
99% muslim countries like Tajkistan – Women in Army are NOT WEARING HIJAB. Several others are going away from Hijab, Niqab & Burqa.In private one can wear what one wants. Even in USA with Hijab will not be allowed in schools.
In Schools EVERYONE IS SAME – NOBODY KNOWS WHO IS RICH OR POOR, SAME UNIFORM AND THERE IS NO DISTINCTION. School is where all is equal and to BRING INDIAN IDENTIFY AND NOT THIS SEPARATENESS. This is India which already had a partition losing 1/3rd of territory. WE CERTAINLY DON'T WANT TO CREATE ANOTHER SEPARTENESS – ANOTHER ISLAND WITHIN US.
The judge who headed the bench became a Supreme Court judge.
Read more at: https://www.msn.com/en-in/sports/other/karnataka-hijab-row-subramanian-swamy-exclusive-the-right-stand-latest-news-cnn-news18/vi-AATHhMiUse
Recommended for you