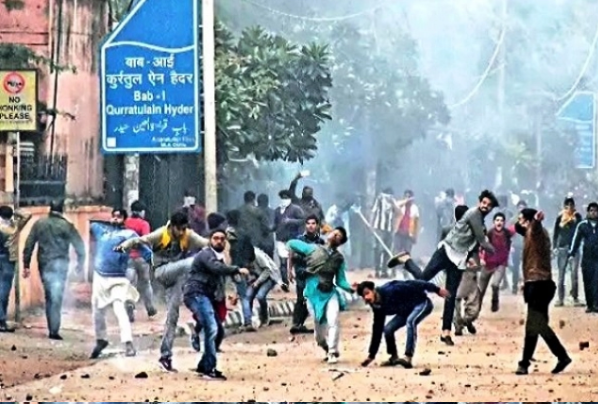 Photo courtesy: Swarajyamag
Some minority-muslim universities (Jamia Millia, AMU,), muslim groups in areas where they have a strong concentration in Delhi, in Bengal and in Kerala are using the CAA to try to SCARE THE CENTRAL GOVT AND THE PUBLIC AT LARGE to back down and recall the CAA law. No surprise ==> select muslim AAP politicians, Congress, communists, some others, the PFI-SDFI which are suspected of arms training and terrorist activities, secular media, urban marxists, foreign funded missionaries, and others have joined together. THEY ARE PURPOSEFULLY SPREADING MISINFORMATION. Anyone can read the laws, listen to the Parliamentary debates and understand what the PM and Home Minister have said. THIS LAW HAS NO IMPACT TO ANY INDIAN CITIZEN.
But, they are trying to use this as an excuse to show their raw power – or so they think they are doing. Statements made like – "WE WILL TAKE YOU DOWN WITH US", OR ""MUSLIMS CAN BRING ABOUT CHAKKA-JAM IN 500 CITIES IN INDIA."
Fortunately for Law Abiding Citizens in India, we have strong Central Gov't which is large corruption free. It has clear mandate and conviction. It is able to deal with the situation. Some states it is a different matter due to vote-bank politics.
These groups and their sponsors are living with decreasing importance and say in matters. Some groups are losing their privileges like recent laws (read Trip Talaq).
The Govt and the Public are smart to look at the facts, evidence and they are not being fooled one bit. Sadly the Delhi Police and others are doing a great job to restore law and order and taking so many casualties. GOD PROTECT THEM TO THE FULLEST.
Source: Opindia
Recommended for you