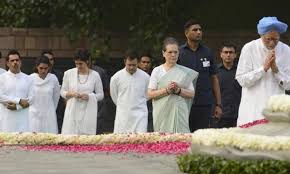 Photo courtesy: Hans India
Former PM Manmohan Singh, former president Pranab Mukherjee and present congress party president Sonia Gandhi has paid tribute to Rajiv Gandhi. Today on his 75th anniversary the congress leaders has paid honour to Rajiv Gandhi.
Rahul Gandhi, Priyanka Gandhi Vadra, including congress president Sonia Gandhi his family along with former vice president Hamid Amsari was also present in the prayer.
We must never allow communal madness to break the bond of unity among us all. #SadbhavanaDiwas," the Congress in official Twitter handle.
Source:Economic Times
Recommended for you