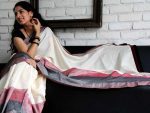 Photo courtesy: Idiva
As Indians we love most things imported and Valentine'd Day is no different. The basic idea to show your love to your significant other.
But we smart Indians, we can expand our show of physical or etneral love to our Mother or Parent or anyone of the opposite gender who means a lot. Not just western dresses, but our own wonderful Saris, Lehenga and others. And not just chocolates but Mihais, Rasogullas and Fruit cakes.
Let us not stop at what we have imported but make it a truly memorabe DESI VALENTINE'S DAY TO EXPRESS OUR LOVE AND GRATITUDE TO ALL THOSE WHO MATTER IN OUR LIVES.
Source: Idiva
Recommended for you