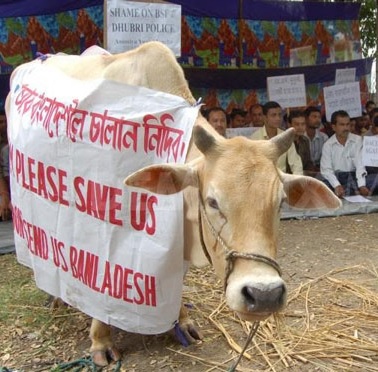 Photo courtesy: Google
Cow smuggling, running into lacs of cows, reached crisis proportions along the nearly 4,500 kilometer India-Bangladesh border. Smugglers have dug tunnels, they tie the cows to wooden posts which float as boats, they use bamboo to bend and shoot the cow to the opposite site, construction equipment which extends over the border and lifts the cow, and many other techniques. The border runs through land, flowing rivers and other difficult terrains and it is difficult to make it fool proof. BSF, our main security forces are spread thin. A recent video showed how in 2 minutes, using a flat sliding board, how 5 cows were smuggled to Bangladesh and 5 illegals entered India. At this rate, India could lose most of its cows and crores of illegal Bangladeshis could end up in India. BSF and security forces should be authorized with "SHOOT AT SIGHT ORDERS USING REAL BULLETS, NOT RUBBER BULLETS".
Let us make it very very expensive for the smugglers and the smuggling mafia.
Source: India Today
Recommended for you