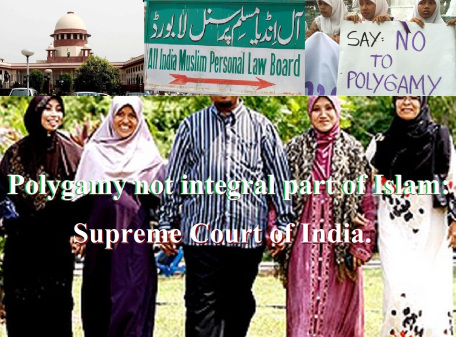 Photo courtesy: Hinduexistence.org
Government of India had opposed "Instant" types of Triple Talaq leading to the Supreme Court passing judgement banning this practice and making it punishable by law. Parliament is in the midst of amending the law to make it illegal.
The Supreme Court will hear the continuation of that case which also sought banning of both "Nikah Halala" and polygamy. Nikah Halala, which is less widely known of, is when a man marries a woman and later gives her talaq, he cannot re-marry her unless she is married to someone else. Petitioners feel this practice has led to lots of abuse and injustice against the affected women.
The Indian government's stand per court affidavit is that "large Muslim population where Islam is the state religion have undertaken reforms in this area and have regulated divorce law and polygamy". Same is the case for Nikah Halala. The government stand is that issues of instant triple talaq, Nikah Halala and polygamy have to be viewed from "principles of gender justice, principle of non-discrimination, dignity and equality".
WE WHOLEHEARTEDLY AGREE WITH GOVERNMENT OF INDIA'S LEGAL POSITIONS ON THESE MATTERS AT THE SUPREME COURT…
Source: News18
Recommended for you