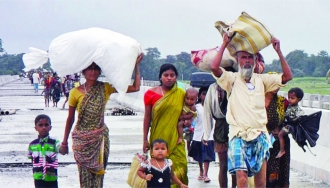 Photo courtesy: Daily Pioneer
India's Army Chief recently made some correct and important security concerns in a close door defence seminar but some points got leaked.
Some key points were:
* Even well before the Rohingya crisis in Myanmar, in 2010, 40 lakh Rohingya entered India illegally and they have grabbed land and settled in hindu majortiy Jammu and not in muslim majority Kashmir. These intruders have all ID cards – ration cards, voter cards, Aadhaar cards and even permanent resident certificates (PRC), whcih some locals struggle to get. Further, they have settled close to army camps and some recent terrorist attacks on army camps where several soldiers were killed have links to these illegal settlements.
* In 2011, the West Bengal Governor warned that there were more than 1.5 crore illegals from Bangladesh and India was sitting on an infiltration time bomb.
* In 1998, the Assam Governor warned that nearly 1 crore population of Bangladesh was missing – meaning they landed up in India in the north-east. And Pakistan's ISI was working on a plot to cut-off India's chicken-neck which will cutoff the north-east.
* Maulana Badruddin Ajmal's All India United Democratic Front (AIUDF) is the fastest growing party explained by the massive influx of illegal migrants from Bangladesh into Assam. These illegals have all proper documentation – ration card, voter ID, Aadhar card, etc. while genuine Indian citizens in remote locations struggle to get Aadhaar and ration cards.
SO AS THE ARMY CHIEF SAID, SOONER WE WAKE UP AND TAKE PROPER ACTION, THE SAFER AND SECURE INDIA IS…
Source: Daily Pioneer
Recommended for you