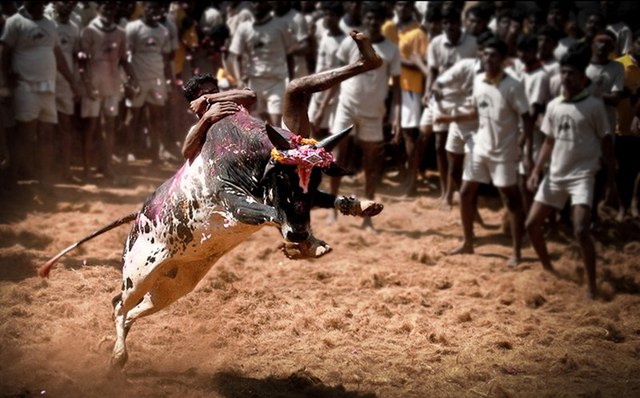 Photo: Swarajyamag
Most people of Tamil Nadu feel the ban on traditional sport of Jallikattu by the Supreme Court from 2012 spearheaded by the former UPA – Congress government, foreign NGOs such as PETA and others with vested interests is unfair and totally against the sentiments of most people of the state. They are upset as the is bull is worshiped and the sport is an essential part of pongal celebrations for centuries. Despite the ban, Jallikattu was organized in 6 districts with great fanfare. In preparation, cows and bulls were washed, special pujas were performed to temple bulls. Then some of their horns were painted and decorated with colorful beads and tinkling bells, and then flowers and garlands were tied around their necks. One farmer was even quoted to have said, "ban or no ban, we will hold the event here. The authorities are free to take action against us".
Source: Daily Pioneer
OurVoice WeRIndia
17 Jan 2017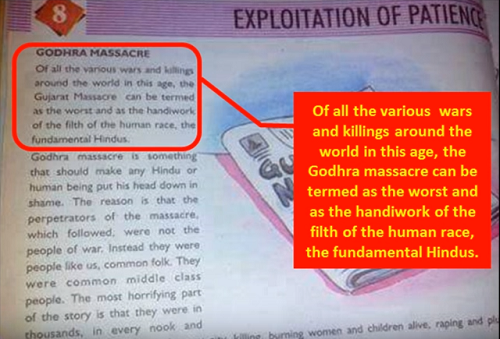 Photo: Nishantdas.net
Congress Govt has manipulated text books extensively, but nobody has talked about it. To quote just a few lines: 'Bhagat Singh was terrorist', 'Godhra Massacre done by Hindus', RaGa (RAHUL GANDHI IS A NATIONAL HERO) – since when? Congress was teaching this to 5th standard children in CBSE. Any surprise – there is NO mention of Kashmir ethnic cleansing, Sikh riots, loss of life in Bangladesh war, Emergency and so many other much worse incidents, or even mention of what caused the Godhra riots (Muslim mobs burning alive pilgrims returning home in a train coaches).
Source: The Lotpot
OurVoice WeRIndia
29 Feb 2016