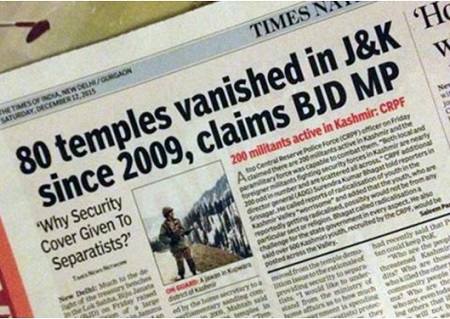 Photo: Sanskriti Magazine
In parliament, Orissa's BJD MP noted that at least 80 temples were missing from the state government"s list. Also more than 3.5 million Kashmiri Hindus and Sikhs were forced out at gunpoint (and had to leave almost everthing) or killed in cold blood. He also was concerned about how much money is being spent for their (separatists) protection in the Valley but also when they come to Delhi.
Source: Sanskriti Magazine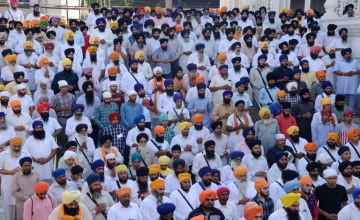 Photo: Google
Normally, it is Muslims who seek quota and reservation. For a change, Sikhs who are a minority community in Jammu & Kashmir are demanding minimum representation in the Jammu & Kashmir cabinet which has no sikh member. In addition, the community also demanded the Punjabi language should be taught in schools and teachers be hired.
Source : NitiCentral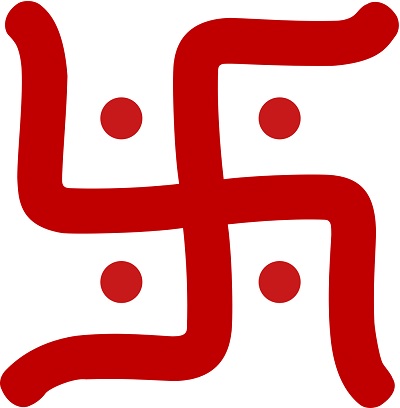 Photo: HAF

Contrary to the hateful meaning it has taken on for many since its misappropriation by the Nazis, the Swastika is an ancient and holy symbol of auspiciousness and good fortune. It is commonly used at the entrances of Hindu homes, in temples, and on invitations to auspicious occasions such as weddings and other rites of passage. The Swastika is also a sacred symbol for Buddhist, Jains, and Sikhs. Unfortunately, Hitler's usurpation of the Swastika still continues to overshadow the beautiful meanings behind this ancient Hindu symbol.

Source: HAF